The ZISI team is a mosaic of people who love humans and nature.
We believe that we must preserve the universe as it is, avoided as much as possible destroying it. The Creator of the world gave us the world, and He commanded us to protect it.
We love a person whoever he is, and we really do not care about the differences between humans, neither race nor ethnicity, neither sex nor color. Just love them all. All of us as human beings have the right to enjoy the nature that the Big Creator has given us.
From the lowest place in the world we want to convey the message to the top. Only love will bring love.
The Dead Sea is in danger of disappearing within a few years. Our common destiny of mankind here in the world can be expressed here, in the lowest place in the world. The Dead Sea is in danger, but it can be saved by a variety of activities.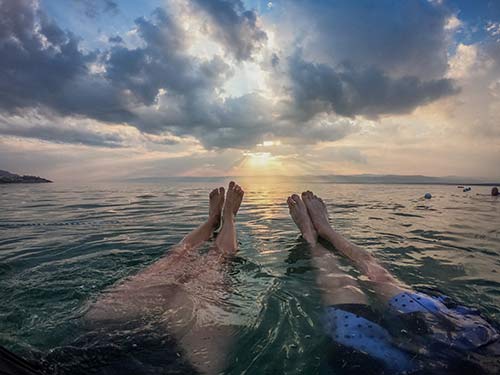 The most important step for saving the Dead Sea is … awareness. The more people visit this place, the more people will be aware of what is going on at the Dead Sea. There is a chance that huge international bodies will mobilize to save it.
A trip to the Dead Sea is important. Of course there is the magical pleasure in this place, the endless peace and tranquility, the unique qualities of the health and beauty of the minerals and the mud and salt water. But the more we visit the place, the greater the awareness of danger, and the greater the chances of saving it. Visiting the Dead Sea is also a moral thing to do.
Do you know Martin Luther King's famous speech?! I have a dream. So we too have a dream. We are as simple as all human beings, and simply raised the gauntlet and decided to do something, same as everyone can do.
We are working to make all the information about the Dead Sea and the dangers to the place, accessible in three languages.
Hebrew – this place is in Israel, and because the earliest sources that mention the Dead Sea are in Hebrew. In the Torah of Israel – the bible.
English – the language familiar in most countries of the world, especially for tourists.
Chinese – as business people we have a lot of friends in China. The Chinese love the Israelis, and the Israelis love the Chinese.
As those works deal a lot in the Chinese market, we know that the information about the Dead Sea is not enough for Chinese speakers.
We are here to do this, to bring to the Dead Sea thousands of tourists from China And from the whole world
If You have idea for more activities around the Dead Sea, tell us, we are attentive to every idea and comment.